S&B Yakitori Seasoning Mix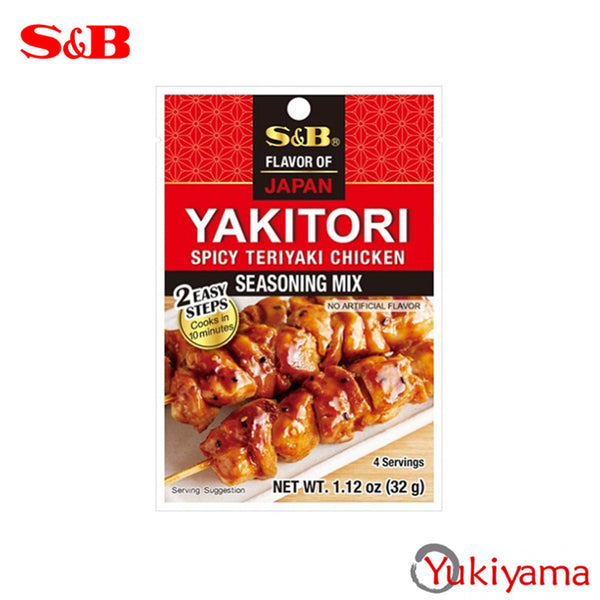 Authentic Japanese taste in a packet!
Do you want to bring Japanese taste to your table but have no recipe or all kinds of Japanese condiments?
With S&B seasoning mix, there is no need to get complex recipes or special materials to cook genuine Japanese food but it can be done in an easy and quick way.
S&B seasoning mix is perfect for those who want to add Japanese taste to your everyday cooking, those who want to enjoy a different kind of cooking with their family, and those who want to eat Japanese food but think it is too difficult or time consuming to cook.
Everything you need to cook Japanese taste is in a packet.
Just 1 packet of S&B seasoning mix and a few simple steps make authentic taste like you had at Japanese restaurants or in Japan.
---Yakitori
Ingredients (4 servings)
Chicken thigh or breast, cut into 1 inch (2~3 cm) cubes680 g / 1.5 lbsVegetable oil1 Tbsp
S&B Seasoniong Mix (Yakitori)1 pkg. (32g/ 1.12 oz)
DirectionsSprinkle S&B Seasoniong Mix over chicken and toss well to coat.
 *Let chicken sit for approx. 10 min with coating to improve flavor.
Heat oil in a pan and cook 1. (approx. 10 min over medium heat)